Thousands in Taiwan protest president's policies
Images

View All Images (11)
Taipei,
--
Taiwan - Tens of thousands of demonstrators gathered Saturday in Taipei to protest government policies ahead of the inauguration of recently re-elected Taiwanese President Ma Ying-jeou.
Wearing red and green armbands emblazoned with the Chinese character for "anger," the demonstrators snaked their way through the streets of the capital before gathering in front of the ornate presidential office building. The main opposition Democratic Progressive Party said it expected about 100,000 people to attend.
Participants said they were angry about Ma's economic policies, including his decision - announced after his January re-election - to raise utility prices. Ma is to be inaugurated for his second four-year term Sunday.
Trading company employee Jerry Hsu said he voted for Ma in January because of his success in improving relations with China, but was now having second thoughts.
"Stabilizing relations with the mainland is not enough," Hsu said. "Ma failed to consider everyday realities when developing his economic policies."
Added recent
college
graduate Wang Wen-ling, "Pay for college graduates is so low that we can hardly dream about further studies or marriage."
Analysis of voting patterns in January's election - which Ma won by six percentage points over his DPP rival - suggest that relations with China were uppermost in many voters' minds.
But since Ma's victory in January, popular anger has crystallized around his economic policies, particularly his decision to raise utility prices, which many Taiwanese saw as dishonest, largely because of its postelection timing. His public approval rating now stands at about 20 percent.
As Saturday's protest began, Ma told reporters that he was sorry so many people were unhappy about his policies, but attributed their negative reception to poor government communication.
"The policies are good," he said. "It's just that we didn't explain them to the public enough."
Protesters at a march through Taipei yesterday. AP
Taiwan opposition rallies thousands against Ma
04:45 AM May 20, 2012
TAIPEI - Taiwan's opposition rallied thousands of people yesterday to protest President Ma Ying-jeou's policies on the eve of his inauguration for a second and final term.
The opposition Democratic Progressive Party (DPP), which said more than 100,000 people took part while the Taipei city police estimated about 38,000, protested under the slogan: "It's getting hard to survive; the President owes us an explanation."
The party is demanding the Ma administration freeze fuel and electricity prices and keep a ban on imports of beef containing residues of additives to promote lean-meat growth, DPP spokesman Lin Yu-chang said at the rally. It also says Premier Sean Chen should step down.
The protest comes after the government allowed utility companies to raise fuel and power prices and proposed a capital gains tax. Taiwan's economy grew 0.36 per cent in the first quarter, the slowest pace in more than two years, and the government cut its growth estimate for this year to 3.38 per cent.
Mr Ma said yesterday at a press briefing that the government was sorry about the concerns certain policies had caused and that his administration would improve and work harder.
"Although our goals of pushing for reforms won't change, we do promise to listen to public opinion when implementing policy and make adjustments where possible," Mr Ma said. "Reform is always an uphill task and, for the good of Taiwan and the people, some reforms can't wait."
Mr Ma, who is also chairman of the ruling Kuomintang (KMT) Party, in January defeated then DPP chairwoman Tsai Ing-wen in the presidential election. The KMT retained its majority in Parliament, while Ms Tsai, who has criticised Mr Ma for building closer ties with mainland China, resigned from the DPP after the defeat.
"Hikes in electricity and fuel prices as well as a proposed capital gains tax directly impact the pockets of the public," said Professor Liu Bih-rong from Soochow University. "Ma needs to select some policies to consolidate his leadership and avoid being a lame duck." Bloomberg
MA'S RE-INAUGURATION: Taiwanese come together to protest
ONE VOICE:From weddings to funerals, politicians to the general public, people came out to protest soaring prices, government indifference and rising national debt
By Loa Iok-sin / Staff reporter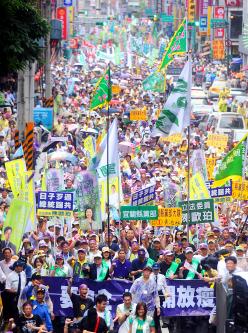 Part of the Democratic Progressive Party's march to manifest the public's dissatisfaction with President Ma Ying-jeou sets out from Wanhua train station in Taipei yesterday.
Photo: Lo Pei-der, Taipei Times
People from all walks of life took to the streets in Taipei yesterday to voice their dissatisfaction with President Ma Ying-jeou's (馬英九) governance.
A group of Hakka people held big black flags with calligraphy in white that read yimin (義民, "righteous people") as they marched. The flag is modeled on the black flags used by Hakka militias who defended their home villages during an uprising against the Qing Dynasty in 1786 and again when they fought against the Japanese occupation of Taiwan in 1895.
"The flag symbolizes the Hakka resistance against injustice and the Hakka spirit of defending our homeland," said Lee Ting-kun (李廷坤), from Taoyuan County. "We're here today to tell Ma that most people are suffering in this country. We want to survive and live happily. Isn't this what the government is supposed to do for us?"
Another group, from Greater Taichung, that stood out staged a mock funeral procession.
Two men were dressed up as Taoist priests and performed funeral rites as they marched, followed by people carrying big black-and-white portraits of Ma and Premier Sean Chen (陳?) and an ancestral tablet for the deceased with Ma's name written on it.
"Doomed by the public, died without disease," one placard read.
"Skyrocketing utility prices have aroused the anger of gods and men alike," another placard read.
A 66-year-old woman, Lee Chuang (李妝), wore a pair of hand-woven traditional shoulder pads connected to a "halo" behind her head, and held a hand-woven flag that read: "Step down."
"This is the outfit of the goddess of mercy," Lee told the Taipei Times. "My son had a dream a few days ago in which the goddess of mercy told him that Ma should step down to end people's suffering, so he hand-made this outfit for me to wear in the parade."
Besides being worried about rising utility prices, Lee said she was also worried that a rising national debt would increase the suffering of the next generation.
"As a mother, I'm really concerned that my children and my grandchildren will have to carry the debts that Ma leaves them," she said.
Many people who supported Ma during the presidential election also took part in the demonstration.
"I regret voting for Ma. I regret it a lot," one man said. "Ma had a different attitude before his election. He acted as if he cared about the people before the election, but now he doesn't listen to what people want."
The People First Party, normally seen as an ally of the Chinese Nationalist Party (KMT), said on Friday it encouraged its members to take part in the Democratic Progressive Party-sponsored protest on their own accord.
PFP spokesman Wu Kun-yu (吳崑玉) and PFP Taipei City Councilor Lin Kuo-cheng (林國成) were spotted in the rally yesterday, chanting slogans calling on Ma to step down.
"Ma should pay more attention to what people want; otherwise he is not suitable to be the president," Lin said.
Chen Che (陳哲), the host of the Facebook group "Let's Meet Up on May 20" (520我們不見不散), held up a sign that said: "Net friends, let's meet up here," .
"The Facebook group was created on March 18, because I think that, with so many Internet users complaining about Ma, we should do more than criticize him and his policies on the Internet. We should turn our dissatisfaction into action," he said, adding that two months after the online group was created, it has attracted nearly 3,000 members.


Chang Chia-ling (張嘉玲), director of the DPP's Department of Women's Development, also caught many people's eye when she joined the rally at one of the assembly points, outside National Taiwan University campus, in her bright red wedding gown.
"I came directly from my wedding banquet," she said. "I will remember this day for all my life, not only because it's my wedding day, but also because this is the day when so many Taiwanese people have come out to tell the government that we're suffering."
Japan Launches South Korean Satellite Into Orbit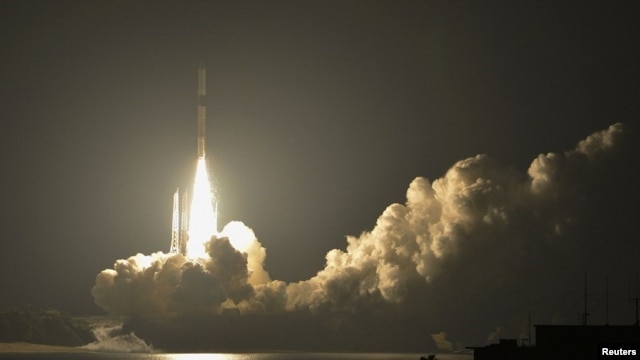 An H-2A rocket carrying four satellites including one from South Korea blasts off from the launching pad at Tanegashima Space Center on the Japanese southwestern island of Tanegashima, May 18, 2012
May 18, 2012
S
EOUL - Early Friday, Japan successfully launched a South Korean satellite. The historical accomplishment puts the Japanese in the same arena as European and Russian entities in the lucrative commercial space launch business.
The roar of the H-2A launch vehicle shattered the early morning silence On the southern Japanese island of Tanegashima. The space center was illuminated as the liquid-fueled 57-meter high two-stage rocket rose off the pad with four satellites on board.
Sixteen minutes after launch, the
Japan Aerospace Exploration Agency (JAXA)
announced the first payload had successfully separated.
The Arirang-3 satellite (also known as KOMPSAT-3) was then placed into orbit. The Korean Aerospace Research Institute (KARI) says it is functioning normally.
Also deployed Friday from the H-2A rocket was a satellite with the world's largest revolving antenna. The Advanced Microwave Scanning Radiometer 2 (AMSR2) is able to measure water temperature from the sea surface with an accuracy of 0.5 degrees Celsius.
Scientists say the Japanese satellite, nick-named "Shizuku," will play an important role in monitoring global water circulation and climate change.
Capturing the most attention internationally, however, is the
cooperation between Japan and South Korea in space exploration.
Japan not only demonstrated its 15th consecutive successful launch of its main large-scale indigenous rocket (built by Mitsubishi Heavy Industries), it also collected tens of millions of dollars from a foreign customer, offering a lower bid than Russia to launch the South Korean satellite.
Japan thus achieves its long-time goal of joining the elite and
highly lucrative - but risky - commercial space launch business.
South Korea has now demonstrated it can develop and assemble state-of-the-art, lightweight, multi-use earth observation satellites.
Arirang-3 carries a high-resolution optical imager purchased from
Astrium, a subsidiary of Europe's leading space company. From an altitude of nearly 700 kilometers, it can capture objects on the ground less than one meter in length.
Kang Kyung-in, the principal researcher at South Korea's KAIST Satellite Technology Research Center, says Arirang-3 will be able to monitor nearly any spot on Earth.
Kang says the remote sensing satellite is not intended to exclusively monitor any particular country (namely North Korea), nor is it exclusively for government use. He expects that some of the data may also be utilized by businesses amid an increasing demand for such high-resolution images.
Analysts, however, point out that, in essence, South Korea now likely has its most sophisticated indigenous device to monitor rival North Korea for military and intelligence purposes. Until now, South Korea has had to rely on its lower resolution satellites or images delivered by its ally, the United States, or other friendly countries with the best resolution space cameras.
The joint Japanese-South Korean event comes just a month after North Korea failed in its third attempt to place into orbit what it said was an earth observation satellite.
Researcher Kang says North Korea's technology is at least 20 years behind the South's and Pyongyang's motives are suspect.
Kang says the April 13th North Korean launch attempt probably was not primarily to deploy a peaceful satellite, as declared, but rather to test its rocket technology which could be utilized to launch multi-stage missiles.
Envoys from South Korea, Japan and the United States are to meet in Seoul Monday to discuss the failed North Korean launch amid concerns the reclusive and impoverished country may also be preparing an attempted third nuclear test.